A real game changer in mainframe UI modernization
Virtel Screen Redesigner revolutionizes your UI modernization process without requiring any web technology expertise.
Our powerful no-code tool is designed to empower CICS/IMS/Natural developers to harness their knowledge of the mainframe application and easily transform the IBM green screens into modern web pages.
Intuitive no-code interface for IBM green screen modernization
Unlike traditional mainframe modernization approaches, Virtel Screen Redesigner enables you to easily redesign your applications without the need for expertise in web development technologies such as HTML, CSS or Javascript.
Drag and drop screen elements in order to build your web screen. You can preview your work in one click and make corrections on the fly.
Reusable templates allows one to modernize hundreds or thousands of screens in a fraction of the time of traditional mainframe web enablement solutions.
Text-entry fields transformation into modern web features
Menu button, dropdown list, checkboxes, date picker, function key button, validation fields... Virtel Screen Redesigner opens mainframe applications to a new generation of users by modernizing the interfaces of 3270 applications.
The tool allows you to select 3270 entry fields and transform them in one-click into an interactive modern web feature.
It empowers organizations to create visually appealing and user-friendly interfaces by incorporating modern design principles, thereby allowing organizations to significantly enhance the user experience of their mainframe applications.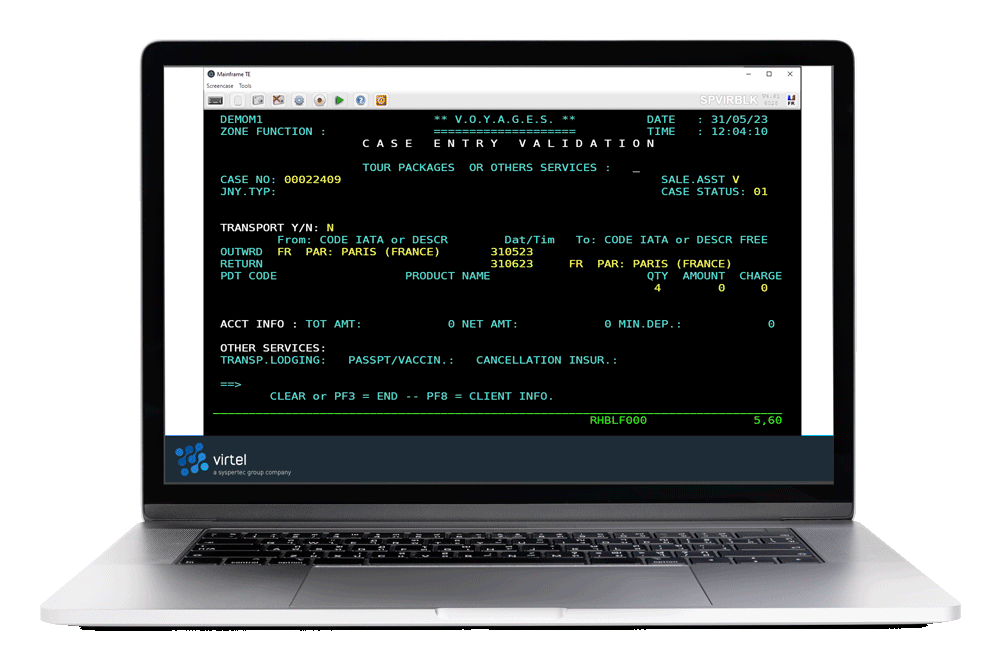 No change in the 3270 application code for a mainframe modernization without disruption
Virtel Screen Redesigner is unique in its ability to modernize your IBM green screens without requiring any changes to your underlying CICS, IMS, TSO 3270 application.
This means you can modernize at your own pace, upgrading IBM green screens incrementally without disrupting your core operations.
In addition, for each modernized screen, you can run both the classic look and feel of the original IBM green screen and its modernized counterpart in parallel. This unique feature empowers users to choose their preferred version, ensuring a user-centric and efficient digital journey.
Since Virtel runs on the mainframe, the solution is easy to deploy and does not require any external server.